******************************************************************************************************************************************
"Telangana Govt finds it an uphill task to curb monkey menace"...News Report
Well, Telangana's Hyderabad is not alone...I read that Lutyen's Delhi, including our Parliament House, is full of monkeys that the Netas find hard to control both within and without.
I guess everyone loves to watch a troop of monkeys as long as they are not menaced by them...the confusion between 'they' and 'them' is intentional.
Monkeys do not make good pets, I believe. RKN says that he had a pet monkey in his childhood at Madras. This monkey was however always chained and one fine evening he broke his chain and ran away knowing fully well that he would meet his death by stoning by city urchins or other monkeys in a troop. Monkeys don't welcome back one of their kind who was snatched away as a pet and raised by monkeys higher in the Darwinian hierarchy.
The question arises why RKN's pet monkey ran away breaking his chains to meet his most probable death. The answer is well-known to the street-folks of France who revolted against their king a couple of centuries ago:
"Death (or possible freedom) is preferable to a lifetime of chains"
...ask Rousseau if you don't believe me.
This hunger for freedom of the spirit at the expense of life is still adored by the French...ask her cartoonists...I don't imply, no, never, that the said cartoonists shared anything with RKN's pet.
Anyway I was and am fond of watching troops of monkeys as long as they don't enter my home and commit nuisance.
Our parliamentarians in the Lok Sabha were smiling when a senior citizen of their ilk made nasty comments about a minister, who happens to be a lady to boot, a few days back. This gent is again in the news today:
"Samajwadi people (Socialists) should spurn Padmashri and Padmabhushan (uspe laat maarna chahiye). These awards are given to only those people who are dishonest (beimaan) these are given only to people from high echelons of society."
"Not a single dalit (member of backward caste), adivasi (tribal) or farmer figured in the list of Padma awardees this year.
Speaking to the media after the event, he stuck to his guns, saying "Whatever I have said, I have said."
"I said not a single dalit, adivasi, farmer is there in the list (of this year's awardees). This has been happening for the last 68 years," he said.
He had recently triggered a controversy in Parliament with his remarks about the body and complexion of south Indian women while speaking about discrimination on the basis of the colour of the skin.


Read more at:
There was this letter to the editor of DC yesterday titled: 'Disrespect':
"In the photograph Top Honour (April 9) the President is seen wishing women's cricket team Captain Mithali Raj with a namaskar. But she is ignoring the namaskar and is looking at the camera. I think she should have acknowledged the President's namaskar."
Alphonse Jude
Secunderabad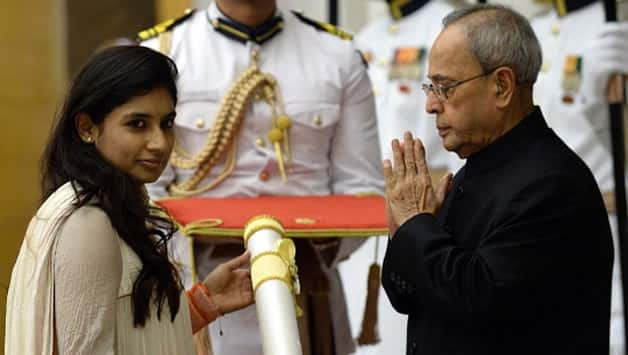 I protest that this is just a frame of one femtosecond...she might have earlier smiled and done a charming pronam to our President. And I see with my sleepy eyes that our President looks rather tired of the entire affair...his eyelids seem to be drooping with fatigue...I maybe wrong and if so I tender my hearty apology to all concerned in this post.
**************************************************************************************************************************************************